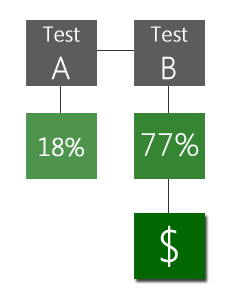 Here at WebCroppers, we consider controlled experiments to be a staple of our marketing expertise and the core mechanism behind ad creation and testing.
Gathering data using multiple testing scenarios allows us to provide our clients with tested and verified evidence on which they can make decisions for business success.
A/B Testing,  often described as "Alpha/Beta Testing," is a key component of any online marketing venture. From Pay-Per-Click to Email, A/B tests are crucial at any marketing level.
These tests are an excellent way to discover which marketing efforts are providing the highest return in engagement and conversion. Essentially – the behavioral truth.
Ad Creation & Optimization
Ad creation, testing, and optimization has become more of an art form as of late.
Understanding the subtleties that go into ad creation allows you to test your ads in multiple different formats in a way that most competitors would dismiss as just another variant.
The beauty of ad creation is that when it comes to any pay per click platform, from massive display to a much targeted local search campaign – the smallest change matters.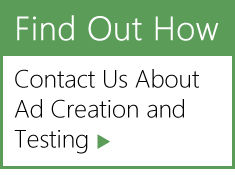 Simply moving a comma from the end of the first description line to the second can have varying effects on the click through rate (CTR) and conversion rates.
The testing variables with either search or display ads are endless. It takes months of time to accumulate enough data to accurately say the usage of "this" specific keyword will result in 'this' specific effect.
To make it even more complex, different niches have different target audiences which will react differently to certain words or images used within placement advertising. It makes the world of A/B testing very large and almost endless.
Implementing Dynamic Keyword Insertion at a bulk level allows advertisers to create a spreadsheet of content which rotates automatically and can be dwindled down to the best performers with only a few clicks of a mouse. This allows more variation to testing as well as helping your ad stand out.
Click Through Rate Optimization
Click-through rate optimization (CTR) is the byproduct of combining a fundamentally sound A/B test and the different steps within ad creation/optimization.
To be able to optimize your click-through rate, you need to look at multiple data points, such as bounce rate, page visits, the percentage of new users and many others prior to distinctively setting about working on CTR.
It's  possible for CTR's to be deceiving. If one of your ads receives 40 clicks out of 100 impressions, that would result in an unbelievable 40% CTR.
Any marketer or PPC manager would be ecstatic with such a CTR, however, they have overlooked the fact that the keyword attached to the ad was closely aligned with a branded term, which was disproportionately in favor of returning users, skewing the CTR, and deceiving the person overseeing the account.
If this person unveiled that specific ad to the rest of his campaigns, they would be in for a very rude awakening the next day to see that the ad failed miserably and cost the company hundreds in spend.
To prevent these scenarios, it's important to combine a controlled environment (A/B testing) with repeated ad creation, testing, and optimization.
The end result will always be a higher, more optimized CTR and the next time ad creation is taking place you will have historical data to compare to.
Your Strategy May Be The Problem
Dominate Ad Results With The Right Team
Partner with WebCroppers to create compelling ads that attract, engage and convert leads into optimal revenue.

WebCroppers Local Digital Marketing Agency