Lead generation or lead generation arbitrage (LGA), is creating a funnel to collect specific information from the consumer or being able to generate inquiries around a specific product or service. These are typically employed in long sales funnels that many Business to Business (B2B) companies utilize.
White papers, case studies, and demos are used to build trust with the lead for their information, vis-à-vis having them browse your catalog and purchase something on their own with little to no interaction from the back end.
Businesses would initially begin increasing the interest levels by providing relevant information to the lead. After the information is consumed by the lead, the interest level is measured and the lead is re-targeted through PPC, social, and e-mail.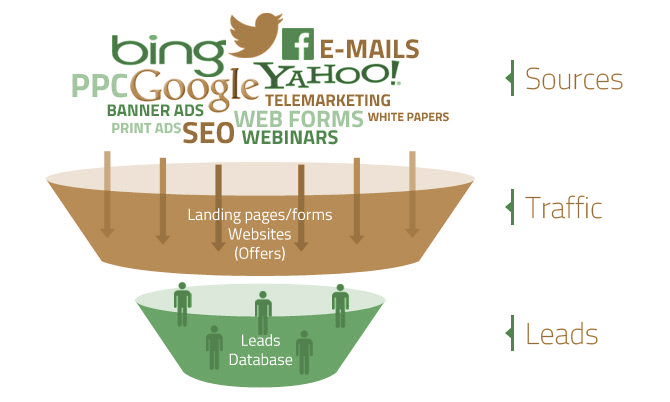 When creating a lead generation landing page, it's important to make sure your form and your CTA button are above the fold.
Make it visible, simple, and clean. Don't overload the form with fields. Start with a name, e-mail, and a verification system for the e-mails. Junk e-mails are a huge waste of time for lead generation, and in this day and age, it's important to make sure you are collecting unique e-mails. E-mail users change handles on average of every 6-months.
If you're utilizing search engine traffic properly, you'll want to install analytics code on your site to build remarketing lists.
This lets you spread your eggs to multiple baskets. Email blasts should always be followed up with a search remarketing campaign. The initial form only acts as a verification page that qualifies the lead only as deep your funnel is.
If your funnel consists of four steps, for example, form, white paper, case study, service/product, you're only 1/4 of the way there.
Making sure that you note the characteristics of what each lead 'looks' like virtually is important to save you time in the future.
There are differences that can be used between the leads that completed all four steps and those that finished the form/white paper and dropped off.
If you're attempting to generate phone call leads, make sure your phone number is plastered everywhere on the site, most importantly in the top right corner, underneath the header.
When it comes to phone leads (Pay Per Call), it's important to make sure that the scripts given to your call center are tested and perfected over and over again.
Many times we've seen legitimate calls be generated through the web presence, only for those qualified leads to break down once they call in because of rude sales reps.
Unfortunately, the person the leads speak with is the companies representative for that call session. If your business is reliant on phone calls make sure you have the right people representing you.
Ad extensions on Bing/Google allow businesses to create their search ads bigger with phone numbers, site links, and reviews (rich snippets).
This is to the advantage of lead generation businesses. Slapping a phone number that can be dynamically changed to show a local number based on user location is something that can go a long way for the bigger companies that don't want to use toll-free numbers, which have shown to be dialed less than local numbers.
Reviews allow the traffic to see what people have to say about your company and if it has an overall good review rating. This alone should be able to put down the guard of the visitor interested in dealing with a reputable company.
Rich snippets can be used to create a form on the text ad as opposed to the landing page, creating an extra funnel without the cost and hassle.
WebCroppers has an excellent synchronized core group of marketers that are ready to take your businesses lead generation campaign to the next level.
We take the different moving pieces between SEO, search, e-mail, design, and social to push companies past their competition. Growing with us will allow your business to look to the future, optimizing your lead generation funnel with the latest technology and the greatest marketing minds.
Fill out one of our forms on the bottom to get in touch with one of our experts. Don't wait and become obsolete.
Your Strategy May Be The Problem
Dominate Ad Results With The Right Team
Partner with WebCroppers to create compelling ads that attract, engage and convert leads into optimal revenue.
Attract. Engage. Convert. Optimize.