This has been the decision of the year for many businesses in the e-commerce market; we're here to help you make that decision. So, you've decided to start an online business. For many, managing servers and building a site for your products can be a headache. With all the maintenance and updates you need to worry about, you might as well hire someone to do it for you. That's why platforms like Shopify and Bigcommerce are so appealing; they take care of these common headaches for you so you can focus on the products and your business as a whole. Now, the question becomes which is the best choice for you and your business?
Note, this article assumes that you'll be starting a premade theme that these two platforms offer, not building a site from scratch.
Shopify vs. BigCommerce: Background Info
Let's start by talking about Shopify.
Shopify Design and User Experience
Having worked with multiple clients using this platform, we can honestly say that Shopify is powerful when it comes to quickly and comfortably building a website that looks nice and clean. Their templates look great and offer the latest designs for modern tastes.
Shopify themes are mostly designed by third-party designers, so you have a lot of choices to find the perfect design that fits your needs. Premium themes typically range from $80 to $200 and are usually a onetime fee. We used the free theme "Jumpstart" to give you a taste of what Shopify has to offer.
We created a killer landing page in about five minutes. Once you have the basic layout of your site, you can then go to the "Products" section. In the same style as other CMS platforms like Squarespace, the sections of your site are broken down to the left and you can manipulate each section of the theme by adding your own text, photos, and videos.
Importing your products is as simple as creating a CSV file on Excel and clicking "Import." You can also add products one-by-one with the click of a button if you only have a handful of products and you don't want to go through the trouble of building a list.
Additional Tools
In our opinion, Filtration and Plugin support is where Shopify falls apart. From our experience, when you need a plugin to get some new feature for your site, it's easy to find but it slows down your site tremendously. Simple plugins have also complicated our SEO strategy, forcing us to bring in developers to fix the issues, (headers, Meta tags, etc.) If you're someone that knows SEO very well and doesn't have the development side down, this could be a potential issue for you down the line.
One thing you are forced to use is the Mega Menu to get filters on your site. While this is the most popular and necessary menu, the code doesn't work well with many themes offered. If you have a simple product, like shirts that only display different sizes, you should be golden with the out-of-the-box filters that Shopify gives you. If you have jewelry, on the other hand, where you need different sizes, colors, artists, stones, metals, etc. then you may want to look in to some other options.
Pricing
Basic ($29/month)
Professional ($79/month)
Unlimited ($179/month)
Now, let's get into BigCommerce
BigCommerce Design and User Experience
We've also had our fair share of clients working with BigCommerce. If you're new to the platform, BigCommerce can seem downright cumbersome. What we mean is that the team at BigCommerce gives you a lot more tools for fine-tuning your website. Everything from importing products to creating custom overview tags for each product is at your fingertips, making first-time navigation time-consuming and overwhelming.
When you get used to these features, however, you realize you have a lot more power and control over your site. One thing we did come across is that the front-end options are extremely limited, meaning the majority of changes that you want will take place in the CSS and PHP files; this requires a decent amount of knowledge of coding languages. If a theme isn't 100% to your liking, you may struggle with changing your website if you're unfamiliar with HTML and any of the main coding languages.
We feel this is where BigCommerce falls short for the average business owner who simply wants to focus on sales and their products. Shopify has the power to create beautiful, while somewhat limited, websites very quickly and effortlessly. BigCommerce, on the other hand, forces you to know HTML if you want to change anything other than the colors of a theme. Bottom line; find a theme you absolutely love to avoid too many changes. Here's a view of one client we working with. The theme customizations are little more than font size and color changes.
While most of our team knows a bit of code and were able to create some nice pages, to get a truly optimized site that was fast and efficient, we really needed to bring in our development team to give our clients the perfect site. So if you know some code, there are endless possibilities.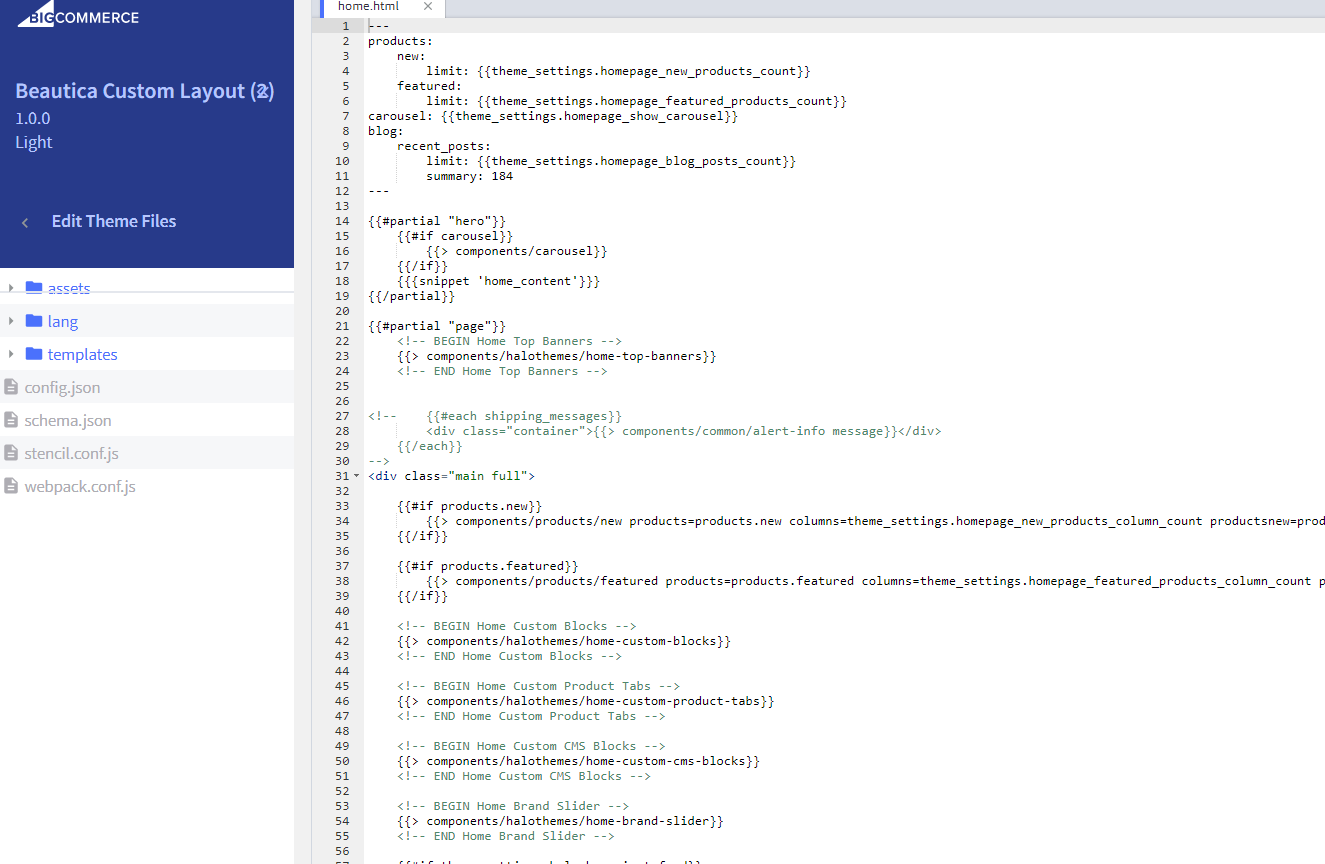 Additional Tools
We will say that if you know what you're doing, BigCommerce is vastly more flexible than Shopify. Even if you don't know code but are happy with the theme you purchase, you get a lot of tools out of the box that will make your website stronger than most stock Shopify themes: shipping quotes, gift certificates, product reviews, etc.
BigCommerce Pricing
Silver ($29.99/month)
Gold ($79.99/month)
Platinum ($199.99/month).
Shopify vs. BigCommerce: Conclusion
The advantage of Shopify is their more mature third-party resources. They have hundreds of themes and apps that you can use to make your website a powerful force. The major downside, in our opinion, is the limited nature of their themes with plugins and SEO. They don't seem to mesh well together since so many developers are involved in making them, which can reduce speed greatly. We recommend this platform to people that have a very basic product that doesn't need much filtration.
BigCommerce, on the other hand, has its own designers, developers, and users. Since they're a newer platform, they have fewer themes and plugins, but what they give you is extremely impressive and keeps getting better as they continue to grow. If you're a developer that knows various coding languages and wants to change your website down to the last atom, then BigCommerce gives you the flexibility to do so.
The bottom line is that if you don't know how to use code, then Shopify is the way to go. You won't be able to change much with their limited features, but you can get a beautiful website that runs great. If you want to build a website that's exactly what you want and runs perfectly, then BigCommerce is the way to go.